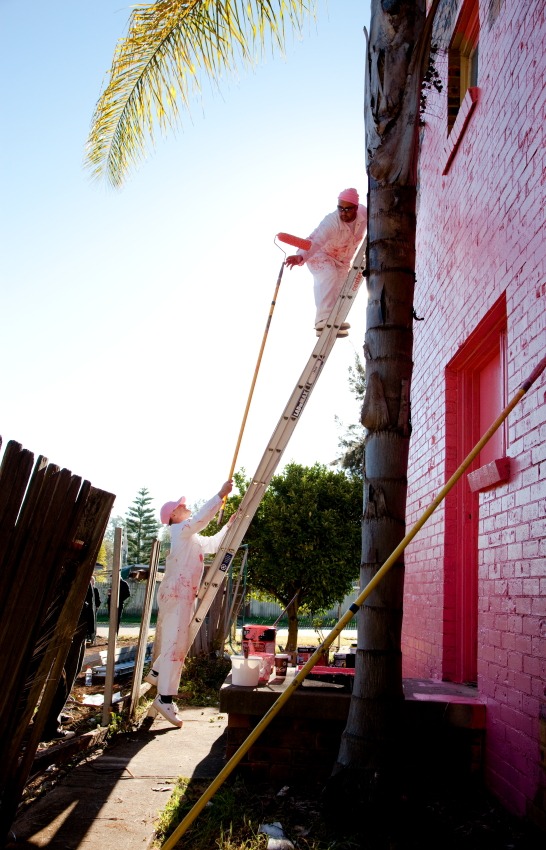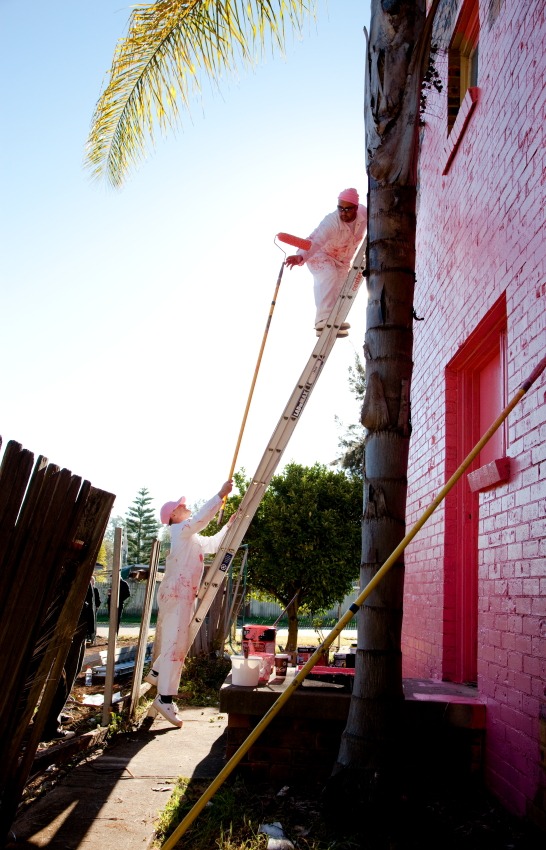 Tony Schwensen and André Stitt, BIG PINKO: Cy & Dusty (2009), durational performance, 0600–1800 hours, Minto, New South Wales. Commissioned by Campbelltown Arts Centre, Sydney. Courtesy the artists. Photographs (colour): Jennifer Leahy, Silversalt Photography. Photographs (b&w): Lend Lease Homes Pty Ltd development at Minto, c.1975-76, courtesy Geoff Evans Collection and Campbelltown City Library.
In the twilight of the Hawke Government in December 1991, I was enjoying a hot summer in the suburbs. Aged eleven, my concerns didn't extend to the usurping of the Prime Minister at the hands of his Deputy, nor the social effects of the recession we had to have. In fact, notwithstanding my BMX and open road beyond which lay the promise of adventure, my principal apprehension was the looming force of puberty which, to an adolescent's mind at least, threatened perpetual instability to rival that feared by my parents as they witnessed the unravelling of the Soviet monolith on our TV screen. Beyond the cul-de-sac where I grew up, in a suburb of Campbelltown whose street names took the theme 'airplanes of the world'—Hurricane, Kittyhawk, Stuka, Thunderbolt—lay a typical Australian landscape of once fertile sheep-grazing hills transformed into sub-divisions, a process begun in the late 1970s which a few years later had attracted families not unlike my own: intent on making a life, often in a new land and in a new language, as best one could, with modest means and hopes.
Around this cul-de-sac there lay nine homes, brick and mortar petals spreading out from an asphalt stem. In one there lived Andrei, an affable, unassuming man from Bucharest who counted himself fortunate to have emerged from the shadow of Ceauşescu to tender tomatoes in the scorching southern hemisphere sun. This happy task, however, was often put in check by Andrei's embittered wife Marilena, whose vodka-fuelled grievances against husband and suburban humdrum alike would permeate gyprock walls filling the street with gossip. Next door lived the Prasads, a Fijian-Indian family of six, whose four bedroom home was colonised by, in one room, towers of VHS recorders in constant rotation, whirring away like plastic insects, in service of the under-the-counter Bollywood rental market that operated from the parents' nearby Indian grocery shop. That left their little prince Rajit with a room of his own, whilst his three sisters battled it out for bunk bed supremacy in the remaining room at the end of the hallway, near the linen closet co-opted into a shrine in divine worship of Ganesha.
To continue circumnavigating this cul-de-sac one arrived at the following: Joyce, a septuagenarian war widow, ballroom dancing champion and budgie breeder, who routinely invited us kids in for milk and scones; Jackie and David, infamous childless curmudgeons in irrational pursuit of a perfect golf green lawn, nemeses to all brave souls who dared encroach their turf in collection of a football gone astray; the brothers Faletoese, offspring of a Maori and Samoan coupling of Seventh-day Adventists, who lived for Nintendo, Michael Jackson and their formidable Rottweilers; Farrokh, always good for street soccer, son of Persian Christians glad to have left the Ayatollahs behind; the young couple Karin and Meik, recently arrived from Germany, who took to volksmarching along the banks of the Nepean; and, lastly, twelve-year-old tomboy Tess, soon to withdraw from our games of handball at dusk, shaken by the revelation that her father, whom she had never met and was too late to ever meet, was a Kamilaroi man, an ancestry Tess struggled to reconcile with her sun-kissed skin, blonde bob and glassy green eyes. [1]
At the time, if it was put to me that my immediate neighbourhood was exceptionally diverse I would have dismissed this as a misnomer. It was simply my street. But as the horizons of childhood broadened with maturity the realisation grew that it was indeed an unusual crucible of cultures. I suppose a cynic might have described it as if an omnipotent social engineer's sleight of hand had configured this particular cul-de-sac for the sake of a tokenistic diversity. By the time I moved to the inner-city I had gained a welcome understanding that the community in which I had grown up—the relationships gained, the experiences and stories shared—proved a special kind of privilege, furnishing my own prejudices and cultural blind spots with valuable insights into the lives of people conspicuously unlike myself.
Almost two decades on from that summer of '91 I found myself in another cul-de-sac, this time in Minto. It was before dawn on a Saturday, with a dog's bark punctuating the crisp winter air, as I waited the arrival of the artists Tony Schwensen and André Stitt. I was there to coordinate a project in my role at Campbelltown Arts Centre that would see Stitt and Schwensen adopt the guise of fictional house-painters, Cy and Dusty. They were to undertake a performance from dusk to dawn that would transform a decommissioned public housing terrace into a kind of pink readymade in the streetscape.
It was billed as BIG PINKO, a title whose partisan pejorative harks back to Minto's peculiar place in Australia's communist past. In preparation for the work, Stitt and Schwensen had visited eminent ninety year-old Minto resident Eric Aarons, former Secretary of the Communist Party of Australia, political theorist and sculptor. Aarons was integral to the foundation in 1958 of the Minto Bush Club, a Marxist educational facility in the bushland backing onto the Georges River on whose opposite bank lies Holsworthy Barracks, which caused a stir in the 1960s with the local branch of the RSL and ASIO alike. [2] As I stood in the cul-de-sac that dark morning, picturing Aarons cocooned in his bed in the hills overlooking this scene, I thought of Frank Zappa's sardonic quip, 'communism don't work 'cause people like to own stuff.' Soon the hire port-a-loo arrived with a driver who wanted to know the reason behind his delivery. I filled him in. 'Yeah, right, like that one out Parramatta way, in Merrylands,' he replied. 'The guy's done it up all green, roof and everything, garden gnomes, the lot.'
Stitt and Schwensen conceived a project that in Stitt's words would 'create a kind of abstract reflection of the external environment [that could] be seen as a kind of critique of Hard Edge abstraction and utopian aspirations reflected in urban planning that ultimately gets co-opted by political expediency and the agendas of speculators and developers.' [3] Minto is a particularly apt geography in which to explore these ideas, especially in this cul-de-sac which represents one of the earliest adoptions in Australia of the North American Radburn model of public housing. This model, of varied-curved subdivisions in avoidance of blind corners that produced 'back-to-front' houses entered via hidden laneways, their yards backing out onto cul-de-sacs, was a proven failure in respect to its designers' aim of social cohesion. The present on-the-ground reality for Minto's community is ongoing instability as public housing residents are moved on, some happily and some begrudgingly, by the dictates of available government stock and commercial interests.
It was in this setting that Stitt and Schwensen arrived with the light of dawn in Hard Yakka coveralls and steel-capped Dunlop Volleys ready to tackle the job at hand. So what was the job? Of course, there was the painting, which took most of the daylight hours, punctuated by smokos and a barbeque. But this task was merely the most visible, and yet ironically the least enduring: the terrace now gone, the cul-de-sac a gap-toothed gum. The real work lay in the navigation of conflicting and difficult contingencies between artists, residents, audiences on the day and the larger community thrown up by such an enterprise. When we describe contemporary art projects as 'community engaged' we signal mutual activity between artists and community members in the art-making process. The difficulty in qualifying exactly what this activity might be, let alone its outcomes, is that the really valuable stuff is the subtle, private recalibrations of interior perspectives. It's that spark that ignites the imagination to see more than what's in front of us, pushing us to have the audacity to embrace the unknown for its own sake. It's a difficult proposition. For every person who turned up that day and vocally expressed their wonder at the artists' efforts, there remained others for whom letting down their barriers proved a challenge: 'Pink! That's for faggots.'
When we talk about contemporary artists working with communities we tend to fall into generalisations as shorthand in reaching consensus on what the parameters and mutual goals should be. But if we strip away the process down to the fundamentals we're left a clearer view. Any given community comprises individual lives that instinctively connect to form a tangle of subjective experiences and expectations. The defining part is how this coalesces into a web of interdependent actualities. For all the transparent pretensions, wilful obfuscation and self-defeating exclusivity that can surround contemporary art and its potential audiences, we sometimes lose sight of an incontrovertible truth: that the nature of the spaces between us is infinitely more complex than this thing called art. We who concern ourselves with such things do well to continue to pursue greater opportunities to reverse the customary exchange. That is, whilst communities are enlivened by experiences of art, there is always near limitless potential for art and artists to be enriched by the lives of others.
Notes
[1] Names have been changed for anonymity.
[2] For a good summary of the history of the Minto Bush Club see Richard Strauss, 'Minto school and Communist party camp', 2008, Dictionary of Sydney http://dictionaryofsydney.org/entry/minto_school_and_communist_party_camp
[3] André Stitt in correspondence with the author, January 2009.
Tony Schwensen and André Stitt, BIG PINKO: Cy & Dusty (2009), durational performance, 0600–1800 hours, Minto, New South Wales. Commissioned by Campbelltown Arts Centre, Sydney. Curated by Lisa Havilah.
Published in Art Monthly Australia, No. 230, June 2010, pp. 5-7.
With thanks to Tony Schwensen and André Stitt.
© Pedro de Almeida 2010.